Tag Archives:
South Africa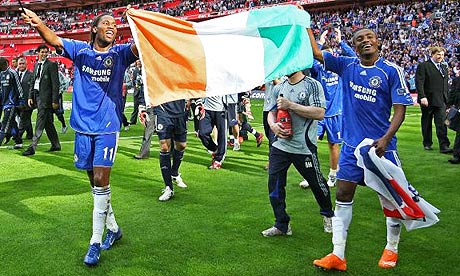 Chelsea's Drogba and Kalou fly the Ivoirian flag. But Kalou was very nearly a Dutchman…

The fleet-footed Chelsea forward Solomon Kalou might permit himself a wry smile as he stands at attention for L'Abidjanaise, the national anthem of the Ivory Coast, when Les Elephantes face Portugal in their World Cup opener on June 15.
Were it not for the stubbornness of former Netherlands immigration minister Rita Verdonk, Kalou would have turned up at the World Cup in the other orange shirt – as a Dutchman. By turning down attempts by the Netherlands football authorities to fast-track citizenship for Kalou in time to pick him for the 2006 World Cup, the conservative Verdonk actually spared his parents a major headache: the Dutch that year played a group game against an Ivory Coast squad that included Solomon's older brother, Bonaventure.
But the episode is simply a reminder that international football often demonstrates just how fluid and fungible the notion of nationality can be. In the same 2006 World Cup, when Croatia played Australia, three players in the Croatian squad were actually Australian, while seven of the Socceroos were eligible to represent Croatia. Continue reading →
Posted in

Glancing Headers, Situation Report
Tagged

2010, Brazil, Croatia, Drogba, Football, identity, Kalou, nation, national, Soccer, South Africa, World Cup
19 Comments