Tag Archives:
2010

Who is this kid? Pele terrorizes Sweden in 1958
Nobody outside of Brazil had heard of the 17-year-old who exploded onto the international stage in the 1958 World Cup in Sweden with a display of skill, audacity, guile, vision and sheer exuberance that was to make Pele a global household name for the next half-century.
His status as the global symbol of football excellence was all the remarkable considering that the world only got to see him three more times at the quadrennial World Cup tournaments, culminating in 1970. Pele, after all, played his weekly club football for Rio De Janeiro's Santos, whose games weren't available on satellite TV.
There are many reasons why World Cup 2010 won't surprise us with a new Pele, but the first should be obvious: today any teenager even half as talented would likely be on the books of Barcelona or Arsenal already, and therefore a familiar face to European club football's massive global TV audience. Continue reading →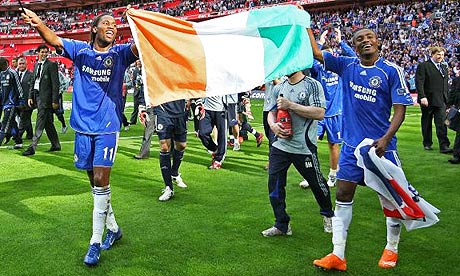 Chelsea's Drogba and Kalou fly the Ivoirian flag. But Kalou was very nearly a Dutchman…

The fleet-footed Chelsea forward Solomon Kalou might permit himself a wry smile as he stands at attention for L'Abidjanaise, the national anthem of the Ivory Coast, when Les Elephantes face Portugal in their World Cup opener on June 15.
Were it not for the stubbornness of former Netherlands immigration minister Rita Verdonk, Kalou would have turned up at the World Cup in the other orange shirt – as a Dutchman. By turning down attempts by the Netherlands football authorities to fast-track citizenship for Kalou in time to pick him for the 2006 World Cup, the conservative Verdonk actually spared his parents a major headache: the Dutch that year played a group game against an Ivory Coast squad that included Solomon's older brother, Bonaventure.
But the episode is simply a reminder that international football often demonstrates just how fluid and fungible the notion of nationality can be. In the same 2006 World Cup, when Croatia played Australia, three players in the Croatian squad were actually Australian, while seven of the Socceroos were eligible to represent Croatia. Continue reading →
Posted in

Glancing Headers, Situation Report
Tagged

2010, Brazil, Croatia, Drogba, Football, identity, Kalou, nation, national, Soccer, South Africa, World Cup
19 Comments