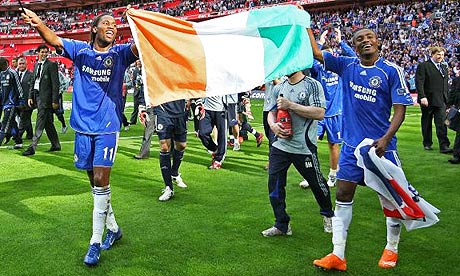 Chelsea's Drogba and Kalou fly the Ivoirian flag. But Kalou was very nearly a Dutchman…
The second installment in my three part series on the World Cup for the South African Sunday Times (this one on football and national identity)

The fleet-footed Chelsea forward Solomon Kalou might permit himself a wry smile as he stands at attention for L'Abidjanaise, the national anthem of the Ivory Coast, when Les Elephantes face Portugal in their World Cup opener on June 15.
Were it not for the stubbornness of former Netherlands immigration minister Rita Verdonk, Kalou would have turned up at the World Cup in the other orange shirt – as a Dutchman. By turning down attempts by the Netherlands football authorities to fast-track citizenship for Kalou in time to pick him for the 2006 World Cup, the conservative Verdonk actually spared his parents a major headache: the Dutch that year played a group game against an Ivory Coast squad that included Solomon's older brother, Bonaventure.
But the episode is simply a reminder that international football often demonstrates just how fluid and fungible the notion of nationality can be. In the same 2006 World Cup, when Croatia played Australia, three players in the Croatian squad were actually Australian, while seven of the Socceroos were eligible to represent Croatia.
And then there are the Brazilians: not those representing their own country, but the likes of Portugal's Deco and Pepe, Spain's Marcos Senna, Croatia's Eduardo da Silva, Poland's Roger Gurreiro, Turkey's Mehmet Aurelio, Tunisia's Francileudo Dos Santos and dozens more who have represented a total of 26 other national teams.
Switzerland's electorate may be increasingly hostile towards immigrants, but the country's fortunes in South Africa in June will depend heavily on the Turkish forwards Gokan Inler and Hakan Yekin, Cabo Verdean holding midfielder Gelson Fernandes, Ivorian defender Johan Djorou, Kosovar Albanian wide man Valon Behrami and a half-dozen other players from former Yugoslavia. Let's just say that in international football, these days, the Zulu Scotsman named Makhathini in the Cadbury's Lunchbar TV ad would no more raise an eyebrow than does Scottish striker Chris Iwelumo, whose dad is Nigerian.