Monthly Archives:
October 2010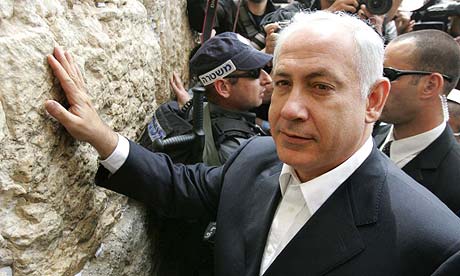 In the spirit of Monty Python & the Holy Grail, Bibi: "I'm am your king!" Me: "I didn't vote for you!"
My latest in the National — extract:
(Israel's) demand for recognition of "Jews as a people, indigenous to the region and endowed with the right to self-government" is problematic, not only for Palestinians, but also for many Jews. Israeli Jews may have constituted themselves as a nation with the right to security and self-determination, but the majority of the world's Jews have not claimed a right to self-determination as Jews. On the contrary, we're very happy that anti-Semitism in the West has been marginalised to the point that we can freely integrate ourselves into the democratic societies in which we've chosen to live.
Growing up as a Jewish anti-apartheid activist in South Africa, I was often told by white racists to "go back to Israel". The idea that Jews don't belong among non-Jews is the traditional language of anti-Semitism – and also of the modern ideology of Zionism that emerged in the late 19th century. Zionism's founder, Theodore Herzl, believed that anti-Semitism of the sort I encountered was inevitable and even "natural" whenever Jews lived among gentiles. He effectively concurred with the anti-Semites' remedy: that I should "go back to Israel".
Continue reading →