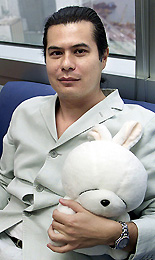 Five reasons you should buy Karl Taro Greenfeld's new book , "The China Syndrome" — besides the fact that it's a gripping chronicle of China's handling of the SARS outbreak in 2003 is a timely and frightening read as the world watches the spread of Avian Flu.
1) Karl provided the looping cross from out on the right that allowed me to soar like a salmon at the near post above a flatfooted defense, for the only headed goal I've ever scored in a competitive soccer match. So I owe Karl. And he has been threatening to get me a bound copy rather than just an electronic galley so as to make it onto these hallowed pages…
2) Karl has managed the unique feat of getting the cover story of both the Paris Review and Foreign Policy magazine in a single month (on China's handling of the SARS outbreak), all while employed as an editor at Sports Illustrated. Freaky. The kid has clearly sensed the imminent demise of print…
3) Years before I knew him, Karl introduced me to Japanese otaku and other Tokyo slacker youth culture through his compelling guide to hip Japan in The Face, back when it was edited by Sheryl Garratt and was arguably the world's best magazine at the nexus of hip, smart and culturally progressive.
4) Because he's a damn good writer, smart, edgy, untamed — and according to my sober guide to all things medical, my esteemed colleague Christine Gorman, it's a great book that highlights the dangers we face as a result of the inclination towards secrecy in authoritarian societies.

Click here to buy it from Amazon
5) Because Bird Flu could prove to be really scary.