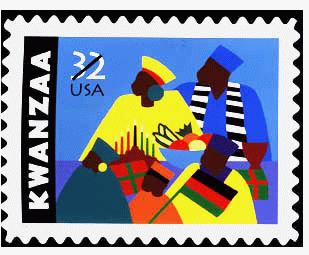 Published in the Cape Times, December 1997
Only in America, as the saying goes.
Africans spending their first holiday season in New York are usually surprised to find that sharing equal billing with Christmas and Chanukah (which gets pretty much equal status to Christmas in a city which is home to the highest concentration of Jews anywhere in the world) is an "African" holiday: Kwanzaa, which runs from December 26 to New Year's day, and includes many of the features of both Christmas and Chanukah, such as gift-giving and lighting seven candles on consecutive days.
It is not surprising that a city which celebrates everything from the Chinese lunar New Year and Ramadaan to Diwali and Mexico's Day of the Dead (and everything in between) would chose to honor a traditional African holiday. What is surprising, is that this "African" holiday doesn't exist in Africa.

Father Kwanzaa: Ron Karenga
Kwanzaa was invented in 1966 by Dr. Maulana Ron Karenga following riots in the African-American ghetto of Watts, in Los Angeles. The intention was to promote cultural self-awareness of the African roots of black Americans, as well as to inculcate traditional African values. The festival, whose name is taken from a Swahili phrase meaning "first fruit", emphasizes family and community, and shared positive values such as unity, self-determination, collective responsibility and faith. Families are encouraged to light a candle each of seven days in honor of a different virtue, and host a large family meal at which African dishes are eaten, gifts are given and a pledge written by the poet Maya Angelou is read:
Because we have forgotten our ancestors, our children no longer give us honor.
Because we have lost the path our ancestors cleared kneeling in perilous undergrowth, our children cannot find their way.
Because we have banished the God of our ancestors, our children cannot pray…
Because of these things we pledge to bind ourselves to one another, to embrace our lowliest, to keep company with our loneliest, to educate our illiterate, to feed our starving, to clothe our ragged, to do all good things.
Despite its rather obviously self-conscious attempts to invent a tradition, Kwanzaa has moved from being the preserve of small activist circles in the early '70s to a celebration currently marked by as many 13 million Americans. Having been cut off from their centuries-old traditions by slavery, many African-Americans are happy to have a holiday expressing their heritage even if that holiday's purported "tradition" involves a bit of a leap of the imagination.
Indeed, it's not as if celebrants of Christmas and Chanukah can legitimately claim that those festivals (in their current form) are innocent of such leaps. Christmas, after all is rooted in pagan Celtic and Germanic celebrations of the midwinter solstice – the Church appropriated the popular festival in the early years of Christianity and changed its meaning to represent the birth of Christ. Moreover, in its modern incarnation, Christmas bears even more similarities to the genesis of Kwanzaa: Santa Claus as the patron of Christmas, for example, was the 1822 invention of New York poet Clement Moore, who reconfigured the story of St. Nicholas, a relatively obscure 4th Century saint from Asia Minor, to create the image of a rotund and jolly bearer of gifts and goodwill. The elves-and-reindeer imagery came even later.
Chanukah, for its part may be a based on a commemoration of the Jews surviving a siege of their temple two millenia ago, but it had always been a relatively minor event on the Jewish calendar. In contemporary America, however, under pressure from Christmas, it has been transformed into a self-conscious equivalent of Christmas, allowing Jewish New Yorkers a sense of not being left out of the seasonal gift-giving frenzy.
As Kwanzaa has moved closer to the mainstream, it has lurched beyond the control of the nationalist-minded community which created it. Estimated to generate as much as $500 million in consumer spending on greeting cards, gifts, gift wrap and other artefacts, it's little wonder that the holiday has spawned its own subsection of the Hallmark catalogue. In fact, corporate America is pushing the niche marketing possibilities to ugly extremes: "The Kwanzaa celebration begins with a Beefeater," says one gin commercial lambasted by community activists – but they're powerless to stop everyone from Colgate to the Kmart supermarket chain from cashing in on Kwanzaa marketing.
The U.S. Postal Service is also getting in on the act, marketing Kwanzaa stamps promoted with a speaking tour by Dr. Karenga himself. (He's drawn fire in the nationalist community for collaborating in what many see as a community ceding control over its own symbols.)
The very success of Kwanzaa in winning mainstream recognition for a celebration of African-American culture during the holiday season has also driven its commercialization by the wider consumer culture. Corporate America doesn't much care whether consumers are observing Christmas, Chanukah, Kwanzaa, Ramadaan, Halloween or Valentine's Day, as long as they're buying more stuff in order to do so.
Adbusters, a California-based organization of social critics who have attacked the excesses of consumerism and the advertising industry, had hoped this year to get celebrants of Christmas, Chanukah and Kwanzaa to stop and think before their holiday spending sprees. They advocated that the Friday after Thanksgiving, traditionally the opening of the holiday shopping season, be observed as a "Buy Nothing Day," and created a TV ad to that end. "The average North American consumes five times more than a Mexican, ten times more than a Chinese person, and thirty times more than a person from India," the ad begins, using an animated image of the North American continent as an insatiable pink pig. As the pig becomes increasingly bloated, the scene cuts to mountains of garbage in an American urban dump, and the voiceover warns, "We are the most voracious consumers in the world; a world that could die because of the way we North Americans live…"
With the global warming talks under way at the time in Kyoto underscoring the latter point, Adbusters' message may have struck a chord with at least a few Americans. Evidently, the major TV networks thought so too, refusing to air the ad because, as a spokesman put it, it ran counter to "the current economic policy in the United States."
Christmas, Chanukah and Kwanzaa all involve some degree of tampering with, if not inventing, cultural or religious "tradition." But corporate America is prepared to treat all three, and whatever new holidays any group of Americans cares to add, as valid expressions of the national tradition it cherishes most: over-consumption.