Serge Gainsbourg records in Jamaica
In my "What is Rootless Cosmopolitan?" manifesto, I hinted at my belief that being dispersed among the nations (the "Diaspora") is not some catastrophe to have befallen Jews, as the Zionists maintain; on the contrary, that dispersal among the peoples of the world has brought out the best in us, and in Judaism itself. It has made us better in so many senses, and that's been good for us and good for the societies in which we live. Pursuing the universal ethics at the heart of my understanding of Judaism makes the Diaspora our natural home. In support of this, I ventured a grab-bag of thumbnail observations:
"All of the great Jewish intellectual, philosophical, moral and cultural exemplars I can think of were products not of a separate Jewish existence, but of the Diaspora, our dispersal among the cultures of the world. Whether it's Maimonides or Spinoza, Marx, Freud, Einstein or Derrida; Kafka or Primo Levi; Serge Gainsbourg or Daniel Barenboim; Lenny Bruce or Bob Dylan; Mike Leigh or Ali G; kneidlach or rugelach or so many of the brooding operatic tunes I heard in synagogue as a kid; all are products not of Jews living only among themselves, but of our interaction with diverse influences in the Diaspora."


My kind of Jew: Baruch Spinoza
(Okay, okay, I wont' go out to bat for that prat Ali G — substitute Lou Reed or Jon Stewart or Marc Bolan or how about Janet Jagan, prime minister of Guyana?) Yes, a Daniel Barenboim may live in Israel today, but he is in every sense a product of the Diaspora (Eastern Europe, via Argentina) and today his cultural milieu spans Berlin and Ramallah. And there are plenty of great Israeli artists, writers, film-makers, journalists and human rights activists, but invariably they are products of interactions with a wider world.

Barenboim conducts in Ramallah
I was pleased to see the same argument taken up by Eric Hobsbawm, preeminent historian of the British left, although he offers a historian's meticulous observations in support of his case.
Hobsbawm's curiosity is aroused by the fact that as ubiquitous as Jewish achievement is in the arts, sciences and political and cultural life in today's world, so is it a comparatively recent development – a trickle that began in the late Renaissance that became a stream in the 19th century and river by the early 20th, but in the post-World War II era has been more of a deluge.
The explanation for this lies in the fact that even in the Diaspora, Jews continued to live mostly in closed communities for much of the past Millennium, either out of choice or as a result of segregation – with some notable exceptions. It was the breakdown of these closed Jewish communities, emancipating Jews from ghettoes both enforced and chosen, that brought on the explosion in Jewish cultural achievements. In Western Europe, Hobsbawm notes, it was largely an emancipation imposed on Jewish communities by the renaissance, which broke the grip of rabbis over the communities where they enforced Taliban-like strictures on Jewish behavior, and particularly on Jewish learning. In many of these communities, reading anything other than religious text was verboten, except in the one place where reading would be deemed to defile a text – thus, I like to think, was born time-honored tradition of Jewish learning in the littlest room. The rabbis had been granted absolute authority by medieval monarchies in many instances, which would allow them to pass sentences of corporal or even capital punishments on those deemed to have contravened religious law. So the wider European Enlightenment, which in its best instances replaced the idea of Jews as a separate community with its own laws and obligations with the modern idea of the Jew as individual citizen, had a profoundly liberating effect.
In Eastern Europe, however, Jews had to fight their way out of the ghettoes imposed by the wider societies in which they lived, and they often did so by making common cause with the progressive and revolutionary movements that defined the most cosmopolitan instincts of their age.
Thus, writes, Hobsbawm, "one might say that Western Jews of the earlier 19th century were emancipated thanks to an ideology not associated with them, while the Eastern Ashkenazim largely emancipated themselves through a universalist revolutionary ideology with which they were closely associated. This is even true of the original Zionism, deeply penetrated by Marxist thinking, that actually built the State of Israel."
The very identity of modern "Ost-juden" (Jews from the East) was heavily inscribed with Eastern and Central European revolutionary thinking. To be sure, the Zionist ideology that I imbibed as a teenager in Habonim in South Africa in the 1970s came wrapped in a utopian-socialist package, and it was the bearded aspirant kibbutzniks of the movement's older ranks that first introduced me to the dialectic. Our Israeli shaliach (emissary) from Kibbutz Ein Gedi on the dead sea taught me the words to the Internationale in Hebrew – all I can remember is "Kum hitnaera ka olam…" In Habonim, the obvious contradiction between the inherently cosmopolitan and universalist nature of socialism and the narrow nationalism of the Zionist project was reconciled with the notion that the Zionist dream of a Jewish state was but a stepping stone to universal socialism. (Nobody asked how the Palestinians fitted in with this version of "universal socialism.") And when I began to demur and suggest that our values may be better applied to the struggle against apartheid in South Africa, the shaliach called me a "Bundist" (a reference to the Yiddisher Arbeiter Bund, a Jewish socialist organization affiliated with the Second International that opposed Zionism and advocated Jewish emancipation via involvement in the broader socialist struggles of Europe – and by the way, the Bund was the largest political organization among the Jews of Eastern Europe before the Holocaust; the Zionist movement had attracted only a small minority).
It was not only in my Habonim experience that the revolutionary imprint of the Eastern European Jewish experience was visible to me: My anecdotal sense (I don't think there was ever a survey!) is that before the mass movement of the 1980s attracted thousands of white South Africans of all affiliations to the ANC, at least half of the movement's white activists had been Jewish (and, remember, Jews were never more than about 3 to 5% of the white population in South Africa). When I first met the legendary trade unionist and ANC stalwart Ray Alexander, I was blown away by the fact that she spoke with the same thick Yiddish accent as my Bubbe had.
Interestingly, Hobsbawm also notes that continued uncertainty over the status of Jews in wider societies has actually reinforced the activist trend towards social justice, citing Jewish involvement in struggles against racism in South Africa and the U.S. as examples. He even suggests that such pressure fuels creativity: "The times of maximum stimulation for Jewish talent may have been those when the Jews became conscious of the limits of assimilation," citing Proust, Freud and Mahler as examples. I'd add Kafka, Barenboim and Primo Levi off the top of my head.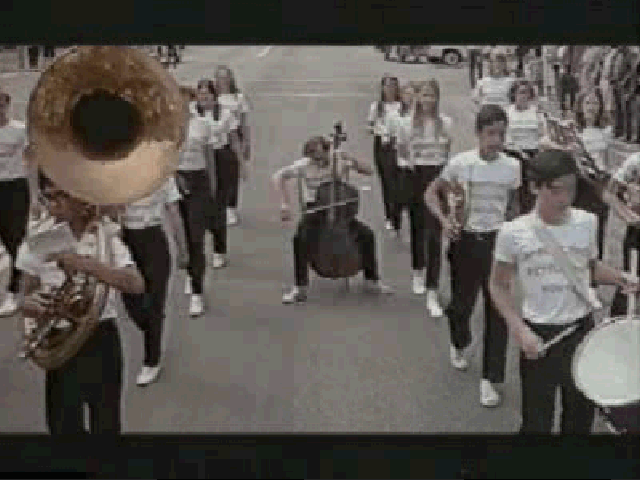 Woody Allen plays the shlemiel in 1969
But it wasn't just on radical politics that the emancipation of Eastern Jewry had a major impact. Hobsbawm details all the obvious developments in the sciences, arts and intellectual life. And he provides an interesting periodization, noting that in the pre-World War II era emancipation had meant Jews simply seeking to become an outstanding unhyphenated citizen of their own country. He notes that in classical music, for example, although Jewish composers make an outstanding contribution in the 19th century, there is nothing "Jewish" about the music they make – unlike the impact made by gypsies or African Diasporans, or even the likes of George Gershwin, on music, they simply compose great French or German music. Although Hobsbawm doesn't mention it, I was reminded of the scholarship of Neal Gabler on the Hollywood Jews, most of whom were German in origin and studiously rejected any reference to anything Jewish even when they were portraying Jews or Jewish themes – even to the extent of casting Cary Grant as a journalist posing as a Jew in order to make a movie about anti-Semitism in "Gentleman's Agreement." Gabler notes elsewhere that Woody Allen, circa 1970, was probably the first director to bring recognizably Jewish Jews onto the big screen, despite all the major Hollywood studios having been run by Jews for a half century. (Interesting, too, Gabler notes how their desire to assimilate into the American mainstream made many of those same studio heads all too willing to cooperate with Senator McCarthy's purges — Woody Allen, for his part, honored those, like comedian Zero Mostel, who stood up to McCarthy and got blacklisted for it, in his memorable movie "The List.")
After World War II, however, Hobsbawm suggests that in the United States, now home to the largest community of Jews – the majority of them Ost-Juden—Jewish culture and identity politics transformed. The Yiddish word "chutzpah," for example, is universally understood today, he writes. Forty years very few non-Yiddish speakers would have recognized it. There's a whole book to be written about the twists and turns taken during this period, (and many have been — I'd highly recommend Philip Novick's "The Holocaust in American Life" for a sharp analysis of the communal politics of American Jewry over the past half century). But Hobsbawm's primary concern is a global sociology of the Diaspora as an enabler of Jewish achievement.
He suggests that the increasingly favorable conditions in which the increasingly emancipated Jews of the Diaspora established themselves in the West after WWII created perhaps the most fertile field of interaction between Jews and the wider society. Israel, by contrast, has yielded nothing comparable, despite the size of its Jewish population. "It would seem that living among gentiles and addressing a gentile audience is as much a stimulus for physicists as it is for film-makers," he writes. "In this respect, it is still much better to come from Brooklyn than from Tel Aviv."
Hobsbawm avoids discussing the Israeli condition at all. But it seems worth noting the enraged epitaph of "socialist" Zionism written, two years ago, by former Knesset speaker Avram Burg. He writes, "We live in a thunderously failed reality. Yes, we have revived the Hebrew language, created a marvelous theater and a strong national currency. Our Jewish minds are as sharp as ever. We are traded on the Nasdaq. But is this why we created a state? The Jewish people did not survive for two millennia in order to pioneer new weaponry, computer security programs or anti-missile missiles. We were supposed to be a light unto the nations. In this we have failed.
"It turns out that the 2,000-year struggle for Jewish survival comes down to a state of settlements, run by an amoral clique of corrupt lawbreakers who are deaf both to their citizens and to their enemies. A state lacking justice cannot survive. More and more Israelis are coming to understand this as they ask their children where they expect to live in 25 years. Children who are honest admit, to their parents' shock, that they do not know."
Ironically, despite the dark predictions of the Zionist ideology of my youth, as many as 750,000 Israelis have left to live in the Diaspora. A Jew's place is in the world. It's only anti-Semites, and die-hard Zionists, who insist otherwise.