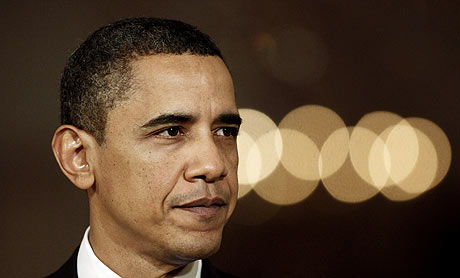 Iran diplomacy in Washington these days consists principally of coaxing the likes of Russia and China to support new sanctions – and persuading gullible journalists that Moscow and Beijing are "on board".
On Friday, the US president Barack Obama told CBS television that Iran is trying to get the "capacity to develop nuclear weapons", and that he and his allies "are going to ratchet up the pressure … with a unified international community". Nobody sets much store by such talk, of course, because President George W Bush had been saying the same thing since 2006 with little effect.
Sure, Russia and China have agreed to finally discuss a Security Council resolution to increase sanctions first imposed three years ago over Iran's failure to comply with all the transparency requirements of the Non-Proliferation Treaty (NPT). But Moscow and Beijing have also made clear that they don't believe Iran is building nuclear weapons. Nor does the US, for that matter. The CIA's assessment is that no such decision has yet been taken, and that Iran's current nuclear efforts will simply give it the option to build nuclear weapons.
As a result, Russia and China have also made clear that they will block any new sanctions that inflict significant pain on the Islamic Republic, aware that the stand-off can only be resolved by dialogue, and that sanctions are unlikely to help.