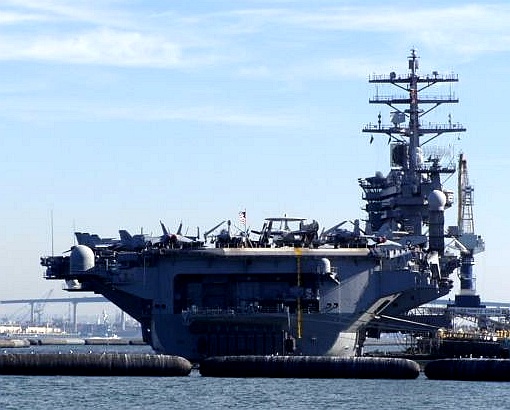 The U.S.S. Nimitz is in the Persian Gulf
So, Condi Rice failed to "bump into" her Iranian counterpart, Manouchehr Mottaki, in Egypt last week, meaning that despite the junior-high flirtation tactics employed by the Administration, there were no direct talks between the U.S. and Iran.
Tom Engelhardt and Michael Klare have reminded us that despite the artless diplomacy, the reality remains that the USS Nimitz is fast approaching the Persian Gulf, suggesting that diplomacy may not really be what the Administration has in mind anyway, when it has enough airborne firepower assembled just off Iran's coast to pulverize a lot of Iranian concrete — and vaporize a lot of Iranian flesh.
And it's certainly hard to take seriously the "diplomatic" language. Tom reminds us that when Bush was asked whether Rice would meet Mottaki, he answered: "Should the Foreign Minister of Iran bump into Condi Rice, Condi won't be rude. She's not a rude person. I'm sure she'll be polite. But she'll also be firm in reminding this representative of the Iranian government that there's a better way forward for the Iranian people than isolation… [I]f, in fact, there is a conversation, it will be one that says if the Iranian government wants to have a serious conversation with the United States and others, they ought to give up their enrichment program in a verifiable fashion. And we will sit down at the table with them, along with our European partners, and Russia, as well. That's what she'll tell them."
In other words, if Rice ran into Mottaki, she'd lower herself to scold him over Iran's nuclear program and its alleged support for Shiite insurgents in Iraq. Needless to say, the Iranians were never going to take seriously such silliness. As Mottaki told my friend and colleague Scott MacLeod in an exclusive interview at the Sharm el-Sheik meeting, it was frankly childish. "There was no advance planning for a meeting — that's why it didn't take place," Mottaki said. "Ministers of foreign affairs don't just meet accidentally. You need to have certain preparations in advance. First of all, there should be a political will for the meeting. They should have an agenda of what they are going to talk about. We don't want to have this conversation for the sake of a conversation. We are not looking for a theatrical show." Indeed, he said, Iran was very keen to hold substantive talks with the U.S. adding that such talks with the EU over a nuclear compromise were going well.
For Klare, the Bush "diplomacy" is simply a ruse. He writes:
President Bush keeps insisting that he would like to see these "diplomatic" endeavors — as he describes them — succeed, but he has yet to bring up a single proposal or incentive that might offer any realistic prospect of eliciting a positive Iranian response.

And so, knowing that his "diplomatic" efforts are almost certain to fail, Bush may simply be waiting for the day when he can announce to the American people that he has "tried everything"; that "his patience has run out"; and that he can "no longer risk the security of the American people" by "indulging in further fruitless negotiations," thereby allowing the Iranians "to proceed farther down the path of nuclear bomb-making," and so has taken the perilous but necessary step of ordering American forces to conduct air and missile strikes on Iranian nuclear facilities. At that point, the 80 planes aboard the Nimitz — and those on the Eisenhower and the Stennis as well — will be on their way to targets in Iran, along with hundreds of TLAMs and a host of other weapons now being assembled in the Gulf.
While the importance of his warning that the amassing of this armada is not going unnoticed by the Iranians even if the U.S. media is largely ignoring it, I don't share his sense that the diplomacy is simply a charade. Bush may be unable or even unwilling at this point to acknowledge the reality of his situation — and by extension, of what a conversation with Iran will entail — and he and his handlers are certainly not likely to admit to the U.S. public that they will, in fact, have to approach Iran in the supplicant position. Yes, even with those carrier battlegroups deployed off its coastline, the Iranians remain confident. Mottaki certainly didn't seek out Rice, after all. He actually avoided her. The reason for Iran's relative confidence is not only that they're moving along nicely in progress towards a deal with the Europeans to take the sting out of the nuclear issue; it's that the U.S. is mired ever deeper in the bloody quagmire of Iraq.
No matter how hard Washington has pushed, the Iraqi leadership has shown no inclination to implement the U.S. script in respect of political moves deemed necessary to resolve the conflict there — and no amount of threats and benchmarks from the Democrats is likely to make the Iraqis do U.S. bidding. The U.S. is truly stuck, because it can't afford the geopolitical consequences of a precipitous withdrawal, yet it can't control the Iraqi political space — Maliki has no intention of acting out the U.S. script, and yet Maliki can't be replaced because to impose a more malleable government, the U.S. would face the wrath of the Shiite street and find its position there quickly untenable.
So, not that they're ready to admit it, but the U.S. is more dependent than ever on Iranian cooperation in Iraq as the only basis for a credible retreat. Iran has considerably greater leverage over the Iraqi Shiites, in terms of persuading them to make accommodations for the Sunnis, than the U.S. does. In fact, it may be precisely the realization that Iranian cooperation is essential to restoring stability in Iraq that explains the mounting frustration among U.S.-allied Arab regimes over Washington's refusal to engage with Tehran.
If the U.S. did strike at Iran, its ability to pull its hand out of the Iraq meat grinder would go up in smoke. Not that this would necessarily restrain Bush and Cheney whispering in his ear out of the side of his mouth, but it's a safe bet that the likes of Defense Secretary Gates (and probably even Rice) would make sure that this didn't happen — because they know it would create a situation nothing short of calamitous for the U.S. situation in Iraq, and throughout the Middle East.
So, despite the firepower being in position, my bet is still that the U.S. refrains from attacking Iran. Indeed, already now, the hawkish position on Iran is has been substantially weakened in Washington, and is almost entirely isolated abroad.