On we go with our list of "rabbis" for the secular and progressive-minded. May 1 being international labor day, it's time to roll out some of my favorite Jewish lefties:
3. Joe Slovo

When Joe Slovo died, the Central Committee of the South African Communist Party, of which he was the Secretary General, wanted to put a single word epitaph on his headstone: "Mensch." The only problem was that it would not be understood by the Party's African working class rank and file. But it was absolutely true. A nice Jewish boy from Joburg who became the best-loved white person in South Africa because of his unfailing commitment to the liberation struggle, Joe personified for me the idea that the calling of a good Jew in South Africa was to fight for justice for all — the mainstream Jewish organizations in South Africa missed the point, choosing quiet quiescence and occasional quiet pleading in response to some especially noxious instance of anti-Semitism. Joe knew that anti-Semitism in South Africa was part and parcel of the racist colonial order, and the best place to fight it was out in the forward trenches of the national liberation movement. He may have been the movement's most senior ideologue and one of its top strategists, but when I had the pleasure of meeting him in the late 1980s, we ended up playing Jewish geography.
12. Studs Terkel

Studs Terkel, the great chronicler of America's story spent his life collecting and amplifying the voices of ordinary Americans on the issues that defined their life and times; it was as if he lived the Brecht poem "Questions from a Worker Who Reads" (Who built the seven towers of Thebes? / The books are filled with names of kings. / Was it kings who hauled the craggy blocks of stone? / In the evening when the Chinese wall was finished / Where did the masons go? … Caesar beat the Gauls / Was there not even a cook in his army? Philip of Spain wept as his fleet was sunk and destroyed. Were there no other tears? etc.) Studs Terkel's life was spent chronicling the history of our times through the lives of the ordinary people who made it. And that for me captures the very essence of a tradition that gave ordinary people the potential, by teaching them to read and write (albeit for purposes of studying the Torah), to understand and make their own history.
13. Ray Alexander

As a young activist in the liberation movement, I'd come to know of Ray Alexander as a living legend who, as a young immigrant from Latvia had set about organizing women workers in the food canning industry in Cape Town, and had dedicated her life to their struggle. A lifelong communist, she was now living in exile in far-away Lusaka, but maintaing a central role in the leadership of the liberation movement as an active member of the ANC's Revolutionary Council. When I finally met her, in 1989, I couldn't believe how this icon of the struggle sounded exactly like my bubba, speaking English with a thick, thick Yiddish accent. She, too, started out in the Zionist movement, and recounts her political evolution in this extensive historians' interview. I love this tale from her days as a teenager in Latvia in the 1920s: "Earlier, at school, I had been a Zionist with my older sister Getty and brother Isher. I often helped the Zionist organisation with office work. When the Jerusalem University was opened — it was in 1926 — the Zionist organisation made a big celebration of it. They invited our school to send a speaker. I was chosen. I prepared my talk on higher education. I made an observation that we are celebrating the opening of the university in Jerusalem, but if there would be a university opened in Timbuktu we should celebrate it as much. Because wherever a university is opened, it is a big candle to lead to a better understanding between human beings. My teacher in algebra was a very strong Zionist, she did not approve. She came over to me after I finished speaking and she said: 'How dare you compare Timbuktu to Jerusalem. Do you know where Timbuktu is?' I said: 'Yes, it's in Africa, central Africa.' I said to her: 'What's your objection to Timbuktu ? People are living there too.' "
22. Isaac Deutscher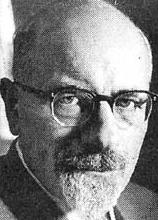 Isaac Deutscher, one-time Polish Yeshiva student, was best known as a Marxist historian and biographer of Leon Trotsky. But what I got from him, in a remarkable essay "The Non-Jewish Jew," is the notion that the Jewish heretic, the Jew who leaves the reservation (shtetl) curious to make his connection with a wider world, even the Jewish atheist, are in fact an integral part of Jewish history and tradition. He sought the roots of Jewish contributions to wider society's cultural achievement precisely in the fact that Jews lived on the margins and interstices of nations. Talking of the likes of Spinoza, Heine, Freud and Marx, he wrote "You may, if you wish to, place them in a Jewish tradition. They all went beyond the boundaries of Jewry. They all found Jewry too narrow, too archaic, too constricting…. Yet, I think in some ways, they were very Jewish indeed. They had in themselves something of the quintessence of Jewish life and the Jewish intellect… as Jews, they dwelt on the borderlines of various civilizations, religions and national cultures. They were born and brought up on the borderlines of various epochs. Their minds matured where the most diverse cultural influences crossed and fertilized each other…. Each of them was in society and yet not in it; of society and yet not of it." It was this condition, he said, that enabled their transcendent thought. But he makes clear that European Jewish communities always produced restless thinkers, like Spinoza, who wandered beyond the closed community, their minds fertilizing and fertilized by a wider world of ideas. That, he says, is in some ways an expression of the universal essence of Judaism's message — that it applies equally to all of humanity — and its contradiction with the notion of a "chosen" people favored over others by their god.
39. Marek Edelman

There are times, as Nelson Mandela said at his trial, when a people is faced with the simple choice of submit or fight. Marek Edelman recognized that choice, as a young activist of the Jewish Socialist Bund in Warsaw in 1942, and together with others of the left and Zionist organizations, he helped form the Jewish Fighting Organization that organized the heroic (and the word is not used lightly here) uprising of the Warsaw Ghetto against the liquidationist plans of the Nazis. His account, The Ghetto Fights, makes gripping and moving reading, and negates the myth that Europe's Jews went meekly to the slaughter. He survived the uprising and the ghetto's liquidation, escaping with assistants from the leftist partisans of Poland's People's Army to become a leader of the underground, and eventually participate in a second heroic rising, the 1944 general Warsaw uprising. In the ultimate triumph over Nazi designs, he remained in Poland after the war, and kept fighting the good fight — from 1976 onwards, he became a labor activist, and eventually in 1980 a leader of the Solidarity movement that helped end authoritarian rule in Poland. As he noted of his early affiliations, "The Bundists did not wait for the Messiah, nor did they plan to leave for Palestine. They believed that Poland was their country and they fought for a just, socialist Poland, in which each nationality would have its own cultural autonomy, and in which minorities' rights would be guaranteed." And he remained true to that vision.
46. Janet Jagan


For reminding us that you can't very well be a light unto the nations unless you actually live among the nations — although she'd never put it that way — and also that a Jew's homeland is wherever he or she chooses to make it. Born Janet Rosenberg in Chicago, she met and married the young Guyanan independence campaigner Dr. Chedi Jagan in her days as a young communist student. The couple moved to Guyana, where they played a leading role in the movement for independence from Britain, spending plenty of time in jail for their politics. And the Caribbean nation repaid her in 1992 by electing her president.