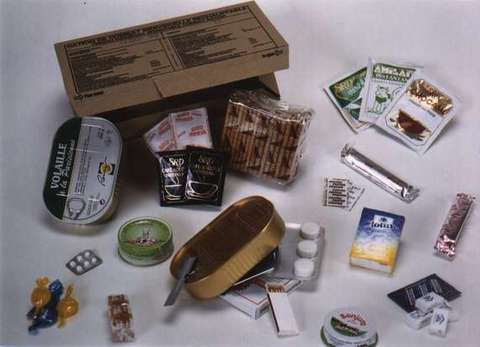 Lunch with the French Special Forces
Okay, at the prompting of Hungry Pat, another cuisine posting.
Quick quiz
Which army would you be in if your Meal Ready to Eat pack contained the following:
Potted Meat of Mackerel Stewed Beef Indian chicken and rice
Nope, as "squaddie" as that sounds, it's actually one of the menus dished out in French ration packs. Of course there's more familiarly "national" fare in there, like sauté of rabbit, mutton stew flageolets, stewed lamb "Navarin," duck and liver paté and earthenware dish "cassoulet." (Earthenware dish? Blimey, it's in a can!) But rumors that it contained a small bottle of wine are not true, although they may have been in the past. And check out the gorgeous little cooker.
Now would it be a function of being a non-combatant army that makes the German Army's Einmannpackung include a vegetarian option: Stir fried vegetables with tofu. The rest of the main courses seem to reflect a history of Wehrmacht WWII conquests — Cevapcicci (Yugoslavian Sausages), ghoulash (which is Hungarian, after all) and Lyon sausage. Nuff said.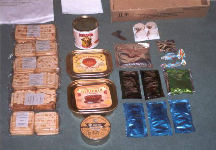 Pass the alchohol heater, tovarish
The Russian equivalent is predictably more lacking in choice, and offers some idiosyncratic variations on the standard meat and veg stew by including barley porridge and buckwheat rice. Including an alchohol based cooking system doesn't seem like a good idea given some of the truly miserable locales in which this army is deployed — hey, if I was on guard duty in Grozny, I'd be drinking the fuel sweetened with the jam or something and diluted…
The British Army caters to a fast-changing and diverse nation in its combat rations. According to this story, the standard ground beef mince meal now comes with three alternative flavoring sachets — bolognese, chili and curry.
But I'm curious about what the armies of Iran and Indonesia, India and Pakistan — and of course, China's People's Army — put in their ration packs. And also what the insurgents of the Taliban and Hizballah eat in the field.
So here's an appeal to Rootless Cosmopolitan readers who care about food: Send in whatever you know, and lets compile a composite picture of armies marching on their stomachs. Looking forward to your replies!