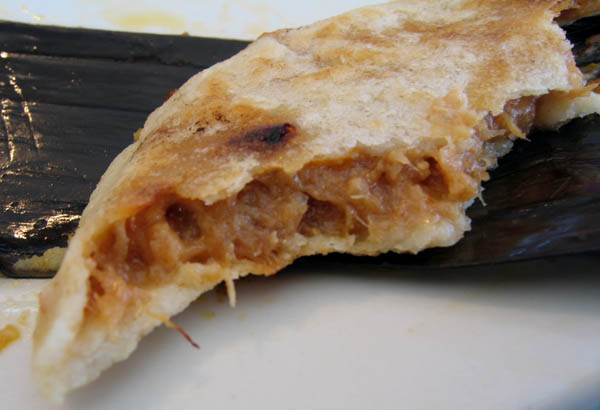 Other people's pupusas
Okay, I'll tell you, because I trust and respect you. And actually, because the Gothamist alreayd told you about it two years ago.
The best-kept food secret in Brooklyn is a sandal. A huarache to be exact. Or at least that's the vernacular in which you have to order the oblong corn-flour pancake whose batter is mixed with bean paste, cooked crisp on the open griddle, and then topped with delicious spicy beef or pork, sprinkled with that crumbly white cheese that only Mexicans can get just right, fresh-chopped cilantro, tomato, pico de gallo, sour cream and green hot sauce, folded over on a paper plate — improbably fresh and delicious, unbelievably tasty, and you can wash it down with a tamarindo-flavored Jarritos soda, while watching two local Latin American soccer teams play an impressive game. Every Saturday and Sunday! The football was obviously the draw for the 200 yards or so of mom-and-pop stalls serving excellent Mexican, Colombian, Salvadoran and Peruvian street food (and the bonus is that it's all made and washed with New York City water, so you won't pay the same price in after-effects as you might in, say Oaxaca).
There's no finer treat than taking a swim in the gorgeous Red Hook municipal pool, then wandering over for lunch to the stalls around the soccer field opposite. I'd also recommend pupusas, a different combination of corn-flour, bean paste and meat, more like a patty. The tamales are good, so are the quesadillas, and also the rice and beans. And that almond milk drink, or the homemade lemonade. And for a counterintuitive dessert treat, try a fresh mango, slice and diced while you watch and put in a bank bag, sprinkled with salt and fresh lime juice — or some watermelon or fruit salad, done the same way, except with chili powder too.
It's crowded, smoky, and there's not much place to sit (unless you go up to the edge of the football field), but, hey, that's street food, right? And there really is none better in Brooklyn.