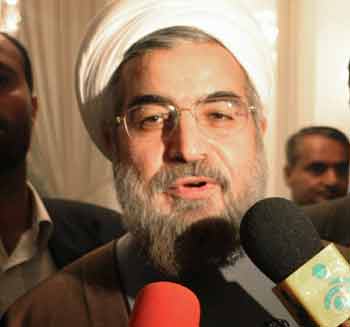 You don't see much of this man in the Western media,
but Hassan Rohani speaks for Ayatollah Ali Khamenei,
the man who actually rules Iran. Rohani is promoting
a negotiating agenda quite different from Ahmedinajad's —
and he has the blessing of his boss
As we've been saying for a while now, President Mahmoud Ahmedinajad does not speak for the regime in Tehran. So what, then, to make of his rambling 18-page letter to President Bush?
The most notable thing about Ahmedinajad's letter was not that it was the first communication between Iranian leaders and the U.S. since 1979, but that it was the first public communication between Tehran and Washington since the hostage crisis. It was less significant for its content — a longwinded scolding of the Bush administration that could be bluntly translated as "here's why we think you suck" — than the fact that Ahmedinajad sent it, and in grandstanding fashion. All previous attempts by Iran to engage the U.S. have been delivered discreetly via back channels, and Iran has long maintained a preference for secret talks to manage the relationship. Ahmedinajad would have no role in such negotiations, which would have to involve emissaries answerable to and speaking for the executive branch in Tehran, which is not Ahmedinajad but Supreme Leader Ayatollah Ali Khamenei. Given his previous inclination to scupper such rapproachment between the regime in Tehran and the West — but also the populist instinct he has displayed by his efforts to buck the clerics by allowing women into soccer matches — I'd say that Ahmedinajad is acting to preempt a far more serious negotiating initiative from Tehran.
TIME carries an op ed written by Hassan Rohani, the Supreme Leader's representative on the National Security Council that does just that, offering a negotiated solution on the issues of concern over Iran's program. There's not all that much new, although Iran is moving towards acceptance of a suspension of enrichment activities in some way. (Tehran's bottom line, at least going into negotiations, appears to be that while it will come to some arrangement to have nuclear fuel supplied from outside, it insists on maintaining a research facility — a position the U.S. and Britain have rejected on the grounds that it allows Iran to refine its enrichment know-how, and also that it creates a pretext for importing technologies that could be diverted for a bomb program. But Iran hopes to overcome those objections by submitting all of its actitivies to an even stricter inspection regime than is currently in place.)
The Iranians appear to be moving in to a diplomatic space left vacant by the fact that the Bush administration has no coherent or credible policy on resolving the crisis without going to war. Bush insists he favors "diplomacy," but he does not use the word in the conventional sense: Despite growing calls from European allies and even senior leaders of his own party in Washington, Bush steadfastly refuses to actually talk to Iran at all. Instead, by "diplomacy," he means talking to allies in the hope of persuading them to back economic, and eventually military action against Iran unless it buckles to U.S. demands on the nuclear issue. The reason for this bizarre position is that the administration actually favors a policy of "regime-change" in Iran, and believes that talking to Tehran would therefore legitimize the regime. Even more seriously, of course, the premise of a diplomatic solution would require that Washington give Tehran security guarantees, undertaking on a treaty basis or something close to that to refrain from attacking the regime. And Bush, clinging to the adolescent revolutionary fantasy that he can transform those parts of the world that he doesn't like by "moral clarity" and sheer force of will, is not prepared to go there. (Will somebody please remind these Reagan-wannabes that for all his "moral clarity," President Reagan went further than any of his predecessors in actually engaging with Moscow, reducing tension and cutting missile fleets — to the alarm of the neocons at the time — in a way that helped ensure a climate in which the Soviet Union's own leaders could acknowlede the longstanding decrepitude of their system and begin to dismantle it.)
The problem, of course, is that nobody in the international community, with the possible exception of the increasingly deranged and therefore unpredictable Tony Blair, backs the regime change agenda. (I'd suspect that even Israel would be cautious on this score — in a comment that got no play in the U.S. media at all, the head of Israel's security service, Yuval Diskin, said recently that Israel would come to regret the overthrow of Saddam Hussein for the instability it has wrought.) Russia and China are leading the charge at the Security Council against any resolution that sets Iran up for sanctions or war over the nuclear issue, but Germany has also made clear that it expects the U.S. to talk to Iran. Continental Europe wants a diplomatic solution, here — Blair was even moved to fire his own foreign secretary, Jack Straw, for ruling out military action. (Straw had told the British cabinet that military action against Iran would be illegal, although Blair appears to have wholeheartedly embraced the cavalier contempt for international law of his captain in Washington.) On the difference between Europe and the U.S. over Iran, I'd venture to suggest that if the options were boiled down to military action or acceptance of a nuclear-armed Iran, most of the Europeans would learn to live with the latter.
The point, though, is that the Bush administration is offering nothing by way of diplomatic initiatives; only a march in the direction of war. Diplomacy is about seeking common ground, finding solutions short of warfare on the grounds that war will be more costly to both sides. But it is also a theater of struggle, in which each side seeks to win allies and to peel away or neutralize the allies of its adversary. And here, it's plain to see that the passive-aggressive position of the U.S. is going to be the loser if Iran now steps forward with a diplomatic initiative that offers hope to the Europeans and others that the matter can be settled without a confrontation.
An Iranian negotiating initiative now — probably using Germany as the interlocutor — will probably not win over the Bush administration, because the Iranians seek to continue uranium-enrichment, at least in a research setting. But it's far from clear that the U.S. and Britain can win the day on that issue. (Germany indicated a willingness to deal on that basis when Russia first floated it.) More importantly, however, if the U.S. maintains its static position on negotiations, the Iranian initiative could leave it increasingly isolated.