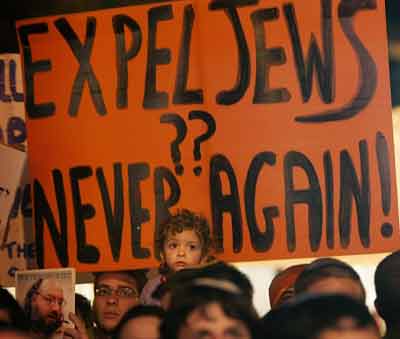 Settlers cynically appropriate the Holocaust: Jews can't claim the support of other Jews when they violate Judaism's fundamental ethics. Expelling Jews when they occupy other people's land seems to me to be a very Jewish idea
We've already discussed why Israel's withdrawal of its Gaza settlements is unlikely to move forward any kind of peace process — precisely, because, as even some of its most fervent advocates emphasize, it's designed to avoid rather than facilitate negotiating a solution with the Palestinians. But the "disengagement" may mark the beginning of a breakdown of the Zionism that has been the organizing principle of Israel's national ideology, and that could, in turn, eventually advance the cause of peace despite Sharon's intention.
For Jews like myself, who see Judaism primarily as a universal ethical challenge rather that has nothing to do with the tribal nationalism of Ariel Sharon or the crusader-in-a-yarmulke eschatology of the settlers; those of us who have chosen to live elsewhere and don't see Israel as "representing" us or claim a kind absentee landlord right to "return" there at the expense of others, it's sometimes hard to find the words to express our outrage at their sheer chutzpah in claiming to act in our name. Harder, still, to remain silent when Eli Wiesel demands that the Palestinians should show more gratitude for Israel's decision to end its settlement policy in Gaza.
Wiesel has every right to demand that the Palestinians understand the Holocaust experience and how this has shaped Israeli thinking. But when he demands gratitude from the Palestinians for Israel's decision to give back land seized at gunpoint, and insists that the episode has been so traumatic that nobody can expect Israel to make any moves now towards peace, Wiesel uses his status as a symbol of the Holocaust to simply endorse Ariel Sharon's political views. I have to agree with the view of former Knesset speaker Avram Burg that there was nothing "Jewish" about Israel's colonization of Gaza, and I certainly don't believe it flowed in any logical way from the Holocaust experience. The "trauma" to which Wiesel refers is entirely self-inflicted.
If the ethical basis of Judaism is that we measure our own actions by the impact they have on others — Hillel's "That which is hateful unto yourself, do not do unto others" — then Wiesel's description of the retreating settlers as "the Dispossessed" is straight out of Orwell's 1984. The settlers moved into Gaza fully aware that it was occupied territory, not part of Israel; they have been subsidized up the wazoo to stay there, and once the realpolitik of those who originally encouraged them to settle there now required them to leave, they were paid monumental "compensation" packages. Gaza was not theirs to possess; if anyone in Gaza is truly "dispossessed," it is the territory's 1 million Palestinians, most of them descendants of those driven out of Israel in 1948. The Jews forced to give up their homes in Gaza when the whole settlement enterprise finally became politically untenable have no claim on my sympathy — not even to the extent that they were duped by Sharon, who as recently as 18 months ago was telling them that the fate of Netzarim was the fate of Tel Aviv, and that the Gaza settlements were essential to Israel's future.
Saving the Jews
Still, the trauma of which Wiesel writes is real within the ranks of Sharon's ruling alliance, and the Zionist movement more generally. And that could presage an important long-term shift. Remember, we are talking here about an ideology whose worst nightmare is that Israel becomes a "normal country." Don't take it from me, you can hear it from the horses mouth in the proceedings of an "elite" conference convened in Maryland earlier this year to
"formulate a plan for the Jewish people." (In a display of epic self-restraint, I shall resist the temptation toward savage sarcasm, but I will note that these are the sort of folks who would prefer to see "most Jewish children enrolled in Jewish educational institutions" — a fate I strenuously, and successfully resisted throughout my South African childhood, a fact for which I'm eternally grateful — rather than getting educated along with the rest of America, and who consider "intermarriage" a crisis.) One of the primary fears explored at the gathering was what they saw as the mounting pressure, in Israel, to create a "normal" country where Israeli identity was more important than Jewish identity. Now wait a minute: Why should young Israelis be burdened with maintaining the fallacy that their national purpose is to maintain a great national ghetto in the heart of a hostile region in order to maintain a safe haven for the rest of us, who have chosen, quite freely, to live elsewhere? Why should they, under the rubric of national service, be forced to enable, at their own considerable pain and discomfort, and sometimes at the cost of their lives, the deranged messianism of a bunch of extremists who want to live in the heart of Palestinian areas in Gaza, Hebron and elsewhere? Young Israelis want to watch their soccer teams compete in Europe, drop ecstasy in the clubs of Tel Aviv and Goa, live in peace and tranquility as global citizens. Normalcy — the nightmare of the self-appointed guardians of our fate — is their right. And if the Gaza pullout results in an ideological fracturing that reinforces the voices of normalcy in Israel, then that's a good thing.
A detour by way of disclosure: I was a teenage Zionist, reared on the movement's basic premise that Jewish life in the Diaspora was doomed by anti-Semitism to be nasty, brutish and probably short. Jewish survival and freedom of self-expression, I was taught, depended on growing a Jewish nation state in Israel, and maintaining maintaining a Jewish demographic majority there. I was no Likudnik, of course — even as teenagers, we in Habonim called Betar, the youth wing of the Likud movement, "fascists" because of their militaristic ultranationalism (and the fact that their founder, Zeev Jabotinsky, had openly admired Mussolini) — I was an idealistic young socialist of the Labor Zionist movement, imagining that working the land collectively in our blue Kibbutznik shirts we would be a Jewish vanguard in the pursuit of a global socialist utopia. Our nationalist emigration was but a way station to a global brotherhood. Yes, yes, I know, but I was only 17, and in comparison to the "Christian National Education" on offer at the windswept cultural wasteland of Milnerton High School in the mid 1970s, these ideas transmitted once a week by blue-shirted hippies who introduced me to everything from Bob Dylan and Bob Marley to dialectics and the poetry of Yevtushenko were an intellectual lifeline.
The conflict with the Palestinians pained me, of course — and I was especially uncomfortable about the fact that while the PLO was close to the liberation movement in South Africa, Israel was the most important military ally of the apartheid regime. There was not even the slightest inclination in the Zionist movement of my youth to seek to understand why the other side might be fighting; that would be too subversive. (As, indeed, it soon was for me, and also cleary always had been for many Israelis: In 1999, during his successful campaign for prime minister, Ehud Barak was asked in a live TV interview what he'd have done if he'd been born Palestinian. He answered: "Join a fighting organization." He tried to backtrack later, but in that moment of candor he'd revealed the most profound truth of the conflict — that Israelis themselves, were they to find themselves in the situation of the Palestinians, would also have taken up arms. If that perspective were widely embraced on the Israeli side, and the Palestinian leadership were able to articulate a similar understanding of the situation in which the survivors of the Holocaust who made it to Israel found themselves in 1948 — in the way that the ANC leadership came to appreciate anxieties at the root of Afrikaner nationalism — the prospects for peace would be greatly enhanced.)
My doubts grew during a 1978/9 visit to Israel, when I heard the elders of Habonim now settled on Kibbutz Yizreel issue prescient warnings of the dangers lurking in the settlement movement that had begun in earnest following Likud's victory a year earlier. Encouraged by a certain Ariel Sharon, Israel was fast grabbing some of the best land in the West Bank and building settlements, precisely to make it impossible to give back this land in any peace deal. Israel couldn't afford to annex the West Bank and Gaza, they said, because that would add 4 million Palestinians to the Israeli electorate, meaning the end of a Jewish majority. So by building a permanent presence to claim control over the West Bank but deny its people the rights of citizenship, Likud would turn Israel into an apartheid state.
Growing doubts
Nor could I avoid the whiff of racial thinking all too familiar from South African official discourse when the leaders of our own movement urged us to move to a new kibbutz, Tuval, which was being built from scratch in the Gallillee, as part of an internal settlement policy to entrench a Jewish presence in a region where the birth-rate among Israeli-Arabs threatened its Jewish demographic majority .
In South Africa, of course, the liberation movement led by the ANC offered an increasingly compelling alternative that seemed to far better realize the ethical impulses that had first inspired me in Habonim. It was a movement premised on the idea that all South Africans, black and white, shared a common humanity that was denied by apartheid. Whites therefore were called on not simply to reject white domination, but also to join the liberation struggle alongside their black compatriots. And the fact that so many of the white South Africans who had earned places of honor in that struggle were Jewish certainly strengthened its appeal as a vehicle to express even my own particular version of Jewishness. Israel may have been the apartheid regime's most important friend, but when Nelson Mandela was tried in 1964, the three white men among his co-accused were all Jewish. The exiled leadership of the ANC included the likes of Joe Slovo, Ruth First, Ronnie Kassrils, Rusty Bernstein, Jack Simons, Ray Alexander and many, many more. (Years later, following Slovo's death, his comrades met to discuss the epitaph for his tombstone — they had settled on "Mensch," but had to drop the idea when they considered the inscrutability of that term to rank-and-file Zulu- or Xhosa-speaking activists.)
When one of my Habonim elders in Cape Town lent me a copy of Uri Avnery's "Israel Without Zionism," I finally found the comfort zone that allowed me to articulate my own rejection of Zionism's basic premises and mythology. Avnery, after all, was one of "us," he'd been there in the war of 1948 and described some of the ethnic cleansing done by Israeli military units including his own. Because it had been drummed into me that criticism of the Zionist project was nothing more than a Trojan horse for Nazism, at that time it was emotionally important to me that Averny was Jewish rather than an Arab or Western critic who could be accused of harboring some unstated ill-will towards Jews. Moreover, Avnery was advocating co-existence between Jews and Arabs in Israel, rather than the idea of maintaining the territory as an "ethnic" homeland for the Jews of the world — the "normalcy" so dreaded by the Zionist leadership.
But normalcy is now slowly being forced on Israel, by the simple fact that the majority of Jews — two thirds of us — have chosen to remain in the Diaspora, thereby negating Zionism's dark premise that the world is so innately antisemitic that Jews could never survive except among themselves. Most of us have found the Diaspora sufficiently comfortable that we've never felt forced to retreat to Zionism's version of the ghetto — and some three quarters of a million Israeli Jews who now live abroad appear to have made a similar assessment.
Zionism's collapse
It was the choice of most Jews to stay away from the "Jewish State" that negated the Zionist enterprise, according to Israeli and Zionist leaders interviewed in Ethan Bronner's recent New York Times analysis of the matter. Bronner quotes the New York consul general of Israel, Arye Mekel, thus: "Ideologically, we are disappointed. A pure Zionist must be disappointed because Zionism meant the Jews of the world would take their baggage and move to Israel. Most did not." Bronner continues, "Contrary to the expectations of the early Zionists, as Ambassador Mekel noted, most of the world's Jews have not joined their brethren to live in Israel. Of the world's 13 million to 14 million Jews, a minority – 5.26 million – make their home in Israel, and immigration has largely dried up. Last year, a record low 21,000 Jews immigrated to Israel… the misery that Zionists expected Jews elsewhere to suffer has not materialized. More than half a century after the establishment of the Jewish state, more Jews live in the United States than in Israel. "
Without necessarily intending it, Bronner's piece has drawn attention to the fact that the Zionist project is predicated on Jewish misery; on the world being too hostile a place for Jews to live. The founder of the Zionist movement, Theodore Herzl, was initimately aware of anti-semitism as the essential precondition for realizing his goal of a Jewish State, writing in his diary during the Dreyfuss trial: "In Paris, as I have said, I achieved a freer attitude toward anti-Semitism, which I now began to understand historically and to pardon. Above all, I recognized the emptiness and futility of trying to 'combat' anti-Semitism." Well, no, I don't think anti-Semitism is in anyway natural or inevitable or intractable, or that seeking to combat it is futile. But then, I'm not a Zionist, I'm a Jew who sees my place as wherever I choose to live in the wider world.
The peacenik Labor Zionism of my youth — a combination of utopian socialism and the nationalist impulse (spurred by the rise of European nationalism in the breakup of the Hapsburg empire and by the anti-semitic currents that accompanied it in some places) to create a safe haven for Jews — had essentially collapsed by the mid 1970s. Its impassioned epitaph was written by Burg two years ago. Its worth quoting at length: "It turns out that the 2,000-year struggle for Jewish survival comes down to a state of settlements, run by an amoral clique of corrupt lawbreakers who are deaf both to their citizens and to their enemies. A state lacking justice cannot survive. More and more Israelis are coming to understand this as they ask their children where they expect to live in 25 years. Children who are honest admit, to their parents' shock, that they do not know. The countdown to the end of Israeli society has begun. It is very comfortable to be a Zionist in West Bank settlements such as Beit El and Ofra. The biblical landscape is charming. From the window you can gaze through the geraniums and bougainvilleas and not see the occupation. Traveling on the fast highway that takes you from Ramot on Jerusalem's northern edge to Gilo on the southern edge, a 12-minute trip that skirts barely a half-mile west of the Palestinian roadblocks, it's hard to comprehend the humiliating experience of the despised Arab who must creep for hours along the pocked, blockaded roads assigned to him. One road for the occupier, one road for the occupied.
"This cannot work. Even if the Arabs lower their heads and swallow their shame and anger forever, it won't work. A structure built on human callousness will inevitably collapse in on itself. Note this moment well: Zionism's superstructure is already collapsing like a cheap Jerusalem wedding hall… Israel, having ceased to care about the children of the Palestinians, should not be surprised when they come washed in hatred and blow themselves up in the centers of Israeli escapism. They consign themselves to Allah in our places of recreation, because their own lives are torture. They spill their own blood in our restaurants in order to ruin our appetites, because they have children and parents at home who are hungry and humiliated."
This from a man who was, within the last decade, the speaker of Israel's national legislature.
For the past two or three decades, however, Zionism's standard has been mostly born by the hard-right nationalists of Likud (the nationalist impulse without the socialist one), in alliance with the religious Zionists (Taliban-style literalists) who have increasingly given that nationalism its content and cultural sustenance. In other words, the "national purpose" of the Israeli state has shifted, gradually, from the utopian socialist ideals of the labor movement to the false messianism of "redeeming" the Biblical Land of Israel as if the coming of their Messiah can be hastened by the conquest of territory. But theirs is a Judaism less of universal ethics than of eschatalogical literalism and the "holiness" of piles of stones and patches of dirt. Instead of a golden calf, they're hard at work trying to breed a red heifer.
Labor Zionism gave way to the impulse towards "normalcy." To understand this phenomenon, I strongly recommend the work of Tom Segev, the marvelous Israeli historian and post-Zionist commentator. Pick up "Elvis in Jerusalem" for a brief chronicle of the emergence of "post-Zionism" in Israel, although all his work is worth reading, particularly "The Seventh Million: Israeli Jews and the Holocaust" and "One Palestine Complete". The antithesis of post-Zionism, of course, was the growth of the religious-nationalist right of which the settlement movement is the vanguard.
They were nurtured and encouraged by Sharon, of course, the champion of secular right nationalism. But it's a tactical alliance whose limits have now been exposed: The settlers have an absolutist view; Sharon trades in realpolitik. For many religious Zionists, Sharon has betrayed them, and in the process taken the temporal Israeli nation-state off the path of messianic redemption. Israel will be wracked for years to come with a debate over what exactly the basis of its national identity is to be. That's a debate that could go on until the messiah comes (or doesn't), of course, but in the mean time, there's little chance that the Zionist movement will be able to reverse the choice of the majority of Jews to live elsewhere. There's simply not enough anti-semitism out there to realize the goal of Zionism — and the Maryland talkshop mentioned earlier — to have the majority of the world's Jews move to Israel. Normalcy beckons.